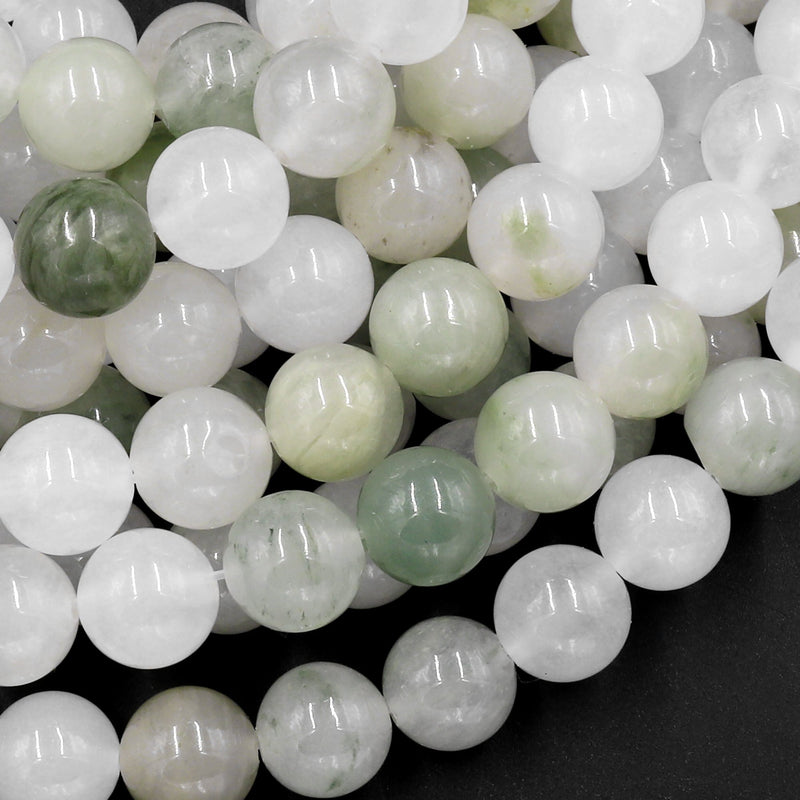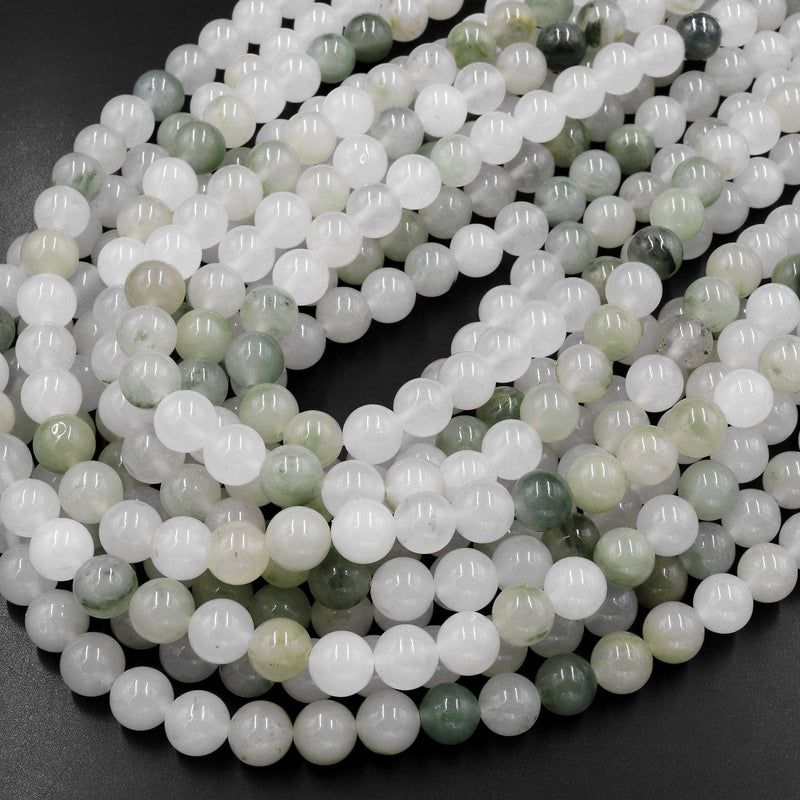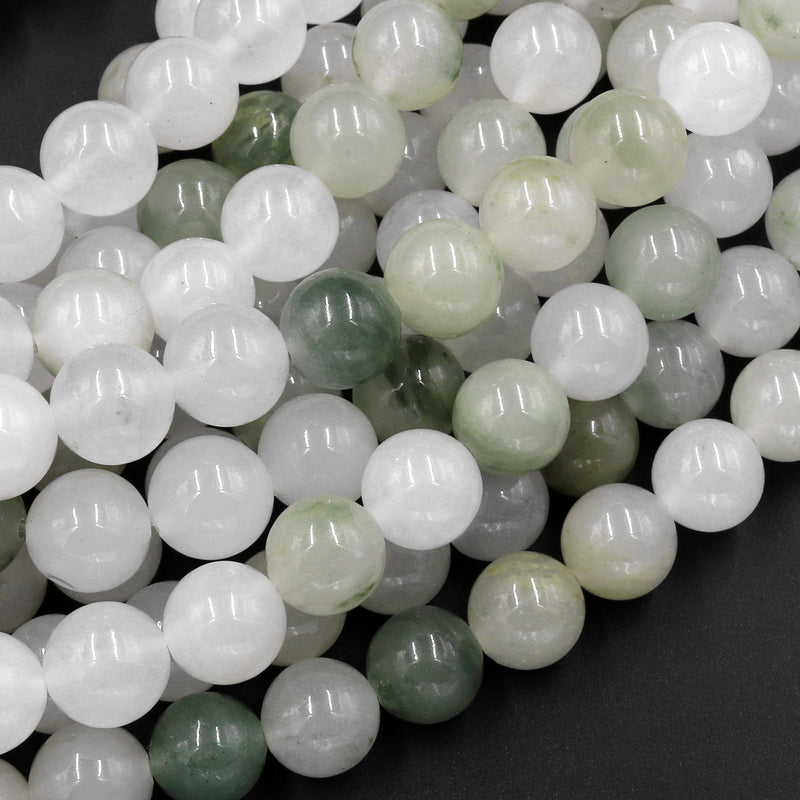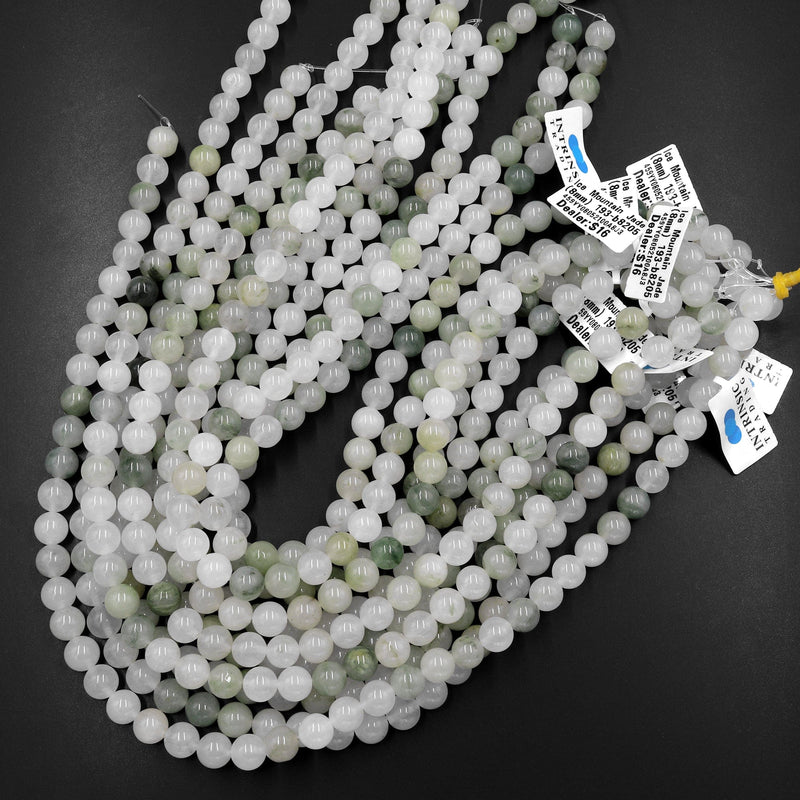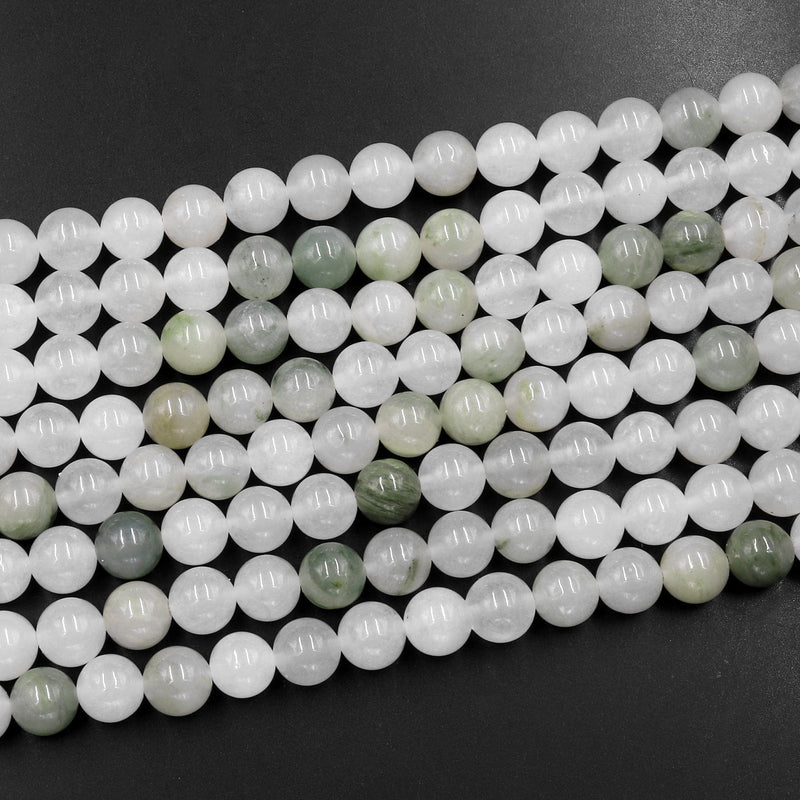 Beautiful clear and marbled green jade beads.
Gorgeous Jade Alternative
Ice Mountain Jade is a really gorgeous type of dolomite quartz. The misty grey-green shades mixed in with the translucent white are very pretty and do mimic true jadeite's coloring. In my strand of 6mm beads there were 11 that were at least partially green, including two that were a darker (not pastel) green. Obviously the mix will vary from strand to strand, but plan on them being mostly white or very pale. All of the beads were beautifully drilled and polished, nice even spherical shape with excellent size consistency; no beads needed to be culled. These are an excellent value for jade look without jadeite prices.
As advertised. Nice polish and drilling.
Nice jade beads, which most are translucent and only very few in green.
beautiful as usual, we use this shop for our small business a lot! always great quality and arrives quickly. LOVE the color in this jade, it goes well with the other jade we have purchased from them.
As always high quality and matched the description.
Everything in this order was absolutely LOVELY -- pristine, high-quality natural beads! I really appreciate the care that went into packing my order, to avoid the possibility of shipping-damage... shipped out so quickly, too! I'm so glad I found this shop, and I look forward to doing business with these folks again -- Many thanks, StonesDirect! : )
Everything in this order was absolutely LOVELY -- pristine, high-quality natural beads! I really appreciate the care that went into packing my order, to avoid the possibility of shipping-damage... shipped out so quickly, too! I'm so glad I found this shop, and I look forward to doing business with these folks again -- Many thanks, StonesDirect! : )
Everything in this order was absolutely LOVELY -- pristine, high-quality natural beads! I really appreciate the care that went into packing my order, to avoid the possibility of shipping-damage... shipped out so quickly, too! I'm so glad I found this shop, and I look forward to doing business with these folks again -- Many thanks, StonesDirect! : )